You don't have to be a financial expert to know that President Donald Trump's policies are making America's economy great again. Even liberal Democrats can't help but notice the booming stock market, the solid monthly jobs reports, and the fact that the nation's GDP increased at an annual rate of 3.0 percent in the second quarter of 2017, according to the Bureau of Economic Analysis.
And it looks like President Trump is on track to hit his much-proclaimed target of 4 percent.
The steady dose of good news regarding the economy is actually striking fear in the hearts of Trump-haters across the nation, according to a report on Thursday published in New York Magazine.
The report cited Trump's "sagging" popularity, calling Republican-ruled D.C. "a chaotic mess on good days and a rolling ball of madness on bad days." It then went on to talk about the "real nightmare for liberals: What if the economy neutralizes everything bad about the GOP regime in Washington?"
Back in May, CNNMoney examined six barometers of the economy and timidly announced, "It looks like the US economy is perking up under President Trump," before going on to report strong job gains for April as they watched the unemployment rate drop to its lowest level since May 2007. The traditionally Trump-negative news outlet noticed, "It seems that consumers, small businesses and corporate CEOs are in a better mood since Trump took office, as well."
Still, they questioned the results, asking, "Is this newfound sense of optimism due more to hopes about Trump's pro-business, pro-growth agenda? Or is it the residual effects of policies from President Obama and low interest rates from the Federal Reserve?"
CNNMoney revisited the issue as second-quarter numbers came in last month, and try as they might, they couldn't find anything bad to say. "Trump is taking credit particularly for strong job growth and record high stock prices. The housing market is another bright spot. And the trade deficit has narrowed," according to the report.
MarketWatch had this to say about the economy last week:
The U.S. created 156,000 new jobs in August, a lighter than expected increase but still plenty enough to keep the economy expanding at a steady clip and give out-of-work Americans more hope.

The latest employment report reflects a rock-solid economy eight years after the end of the Great Recession. An influx of millions of new jobs has boosted the confidence of Americans, lined their pockets with more cash and induced them to spend more. That's fueling one of the longest expansions on record.
CNNMoney lamented, "It's hard to find fault with the latest jobs numbers. The unemployment rate is 4.3%, a 16-year low. The economy has added more than 1 million jobs since Trump took office."
But their report did note that wage growth has yet to reflect the tighter job market since average hourly earnings have increased "only 2.5% over the past 12 months. The Federal Reserve would rather see 3% to 3.5%."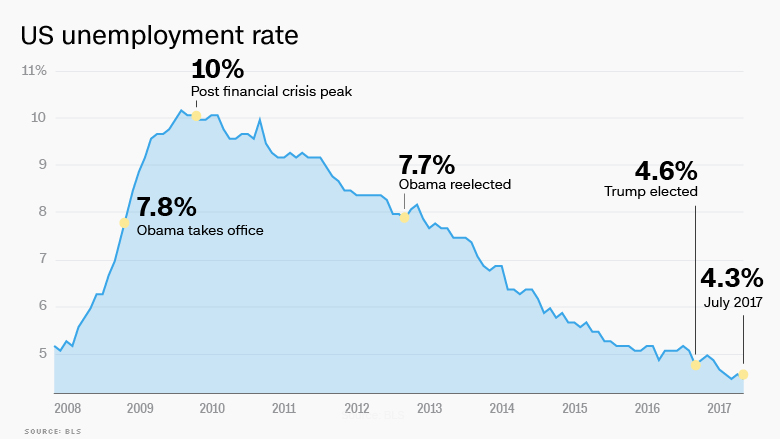 They had to further acknowledge that "because inflation is low, those wage gains are helping many Americans."
And it was an immediate shift the week after the election pic.twitter.com/dcngJP4x1R

— David Williams (@dznyc) September 1, 2017
Prices for existing homes in June hit a record $263,800, or 6.5% higher than a year ago. June was the 64th consecutive month of gains compared with a year earlier.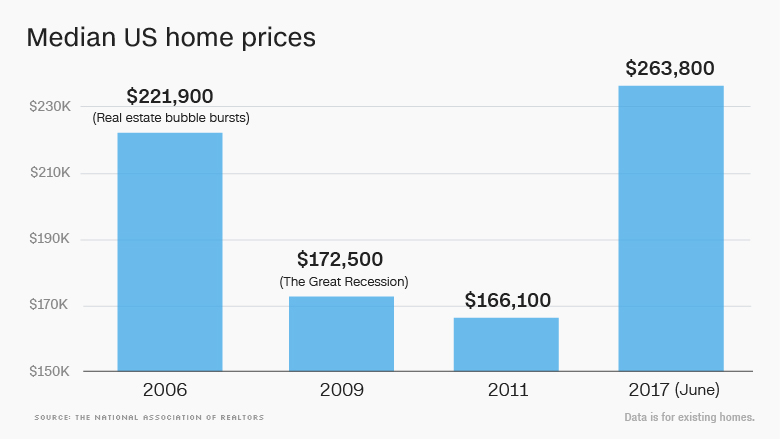 Spending has increased 2.8% over the past 12 months, a bit below the 3% pace many experts feel is necessary to keep the economy on track.
The trade deficit fell to $43.6 billion, which is the lowest it's been since just before the election.
Having brought America's oil industry back to life is a big reason the balance is shifting, the CNN report stated, adding, "Thanks to technologies like fracking, the United States exported more crude in June and imported less."
They further noted, "Exports to Canada and Mexico rose in June, too, a possible sign that Trump's tough talk is working with America's two big North American trading partners, before adding that the U.S. trade deficit with China is up more than 6% this year."
The looming possibility of trade sanctions on the Chinese banks in the wake of North Korean threats to use their nukes could change that situation. According to CNBC, targeting lenders from China, which has the world's second-largest economy, wouldn't be the best idea.
However, the stock market continues to pick up steam. "For now, Wall Street is willing to ignore the turmoil in the Trump administration," says CNN, noting that investors are looking forward to eventual changes to the tax code and possible deregulation of the financial industry.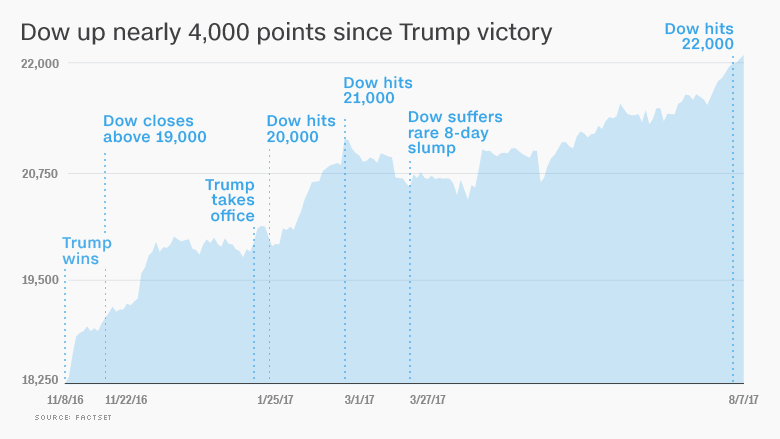 Profits for companies in the S&P 500 are up more than 10% from a year ago.
The New York magazine piece illustrates how worried liberals are about a strong economy ruining their chances to install one of their own in the White House in 2020:
Fears about the economy helping Trump and the GOP reflect, I suspect, a deeper liberal anxiety: that among the investor class, sheer greed at the prospect of the regulatory relief and tax cuts on offer is offsetting the kind of jitters you would normally expect to become endemic about such erratic national leadership on Wall Street and in boardrooms everywhere. If the economy really does boom in the years just ahead, might conservative claims that "big government" was holding back the massive productive capacity of the private sector begin to ring true, even to people who might expect a pretty meager share of the profit bonanza?
Regardless, the New York writer Ed Kilgore ends his article on what he probably considers to be a positive note, calling Trump's trend of regulatory "relief" and promises of tax cuts just "dreams" that will surely come to an end once a Democrat is elected.
Until that happens, however, the "liberal nightmare of an economy lifting Trump to a second term with strengthened Republican control of Congress" will continue to lurk in the backs of their minds, a feeling Hillary Clinton purports to know well.